Experience DSC
"Was informed about this place by internet search. Read reviews and gave them a whirl. They are everything the reviews stated. Great customer service, prices better then I hoped for. Would recommend to anyone interested in coin dealings. "

Jim
"The guys are always friendly, honest and have always given the best prices for buying or selling! My go to guys! Thank you! "

John G
"I went to Diamond State C&C mainly because of the good reviews on this page, and I was not disappointed, really nice staff too! "

Josie S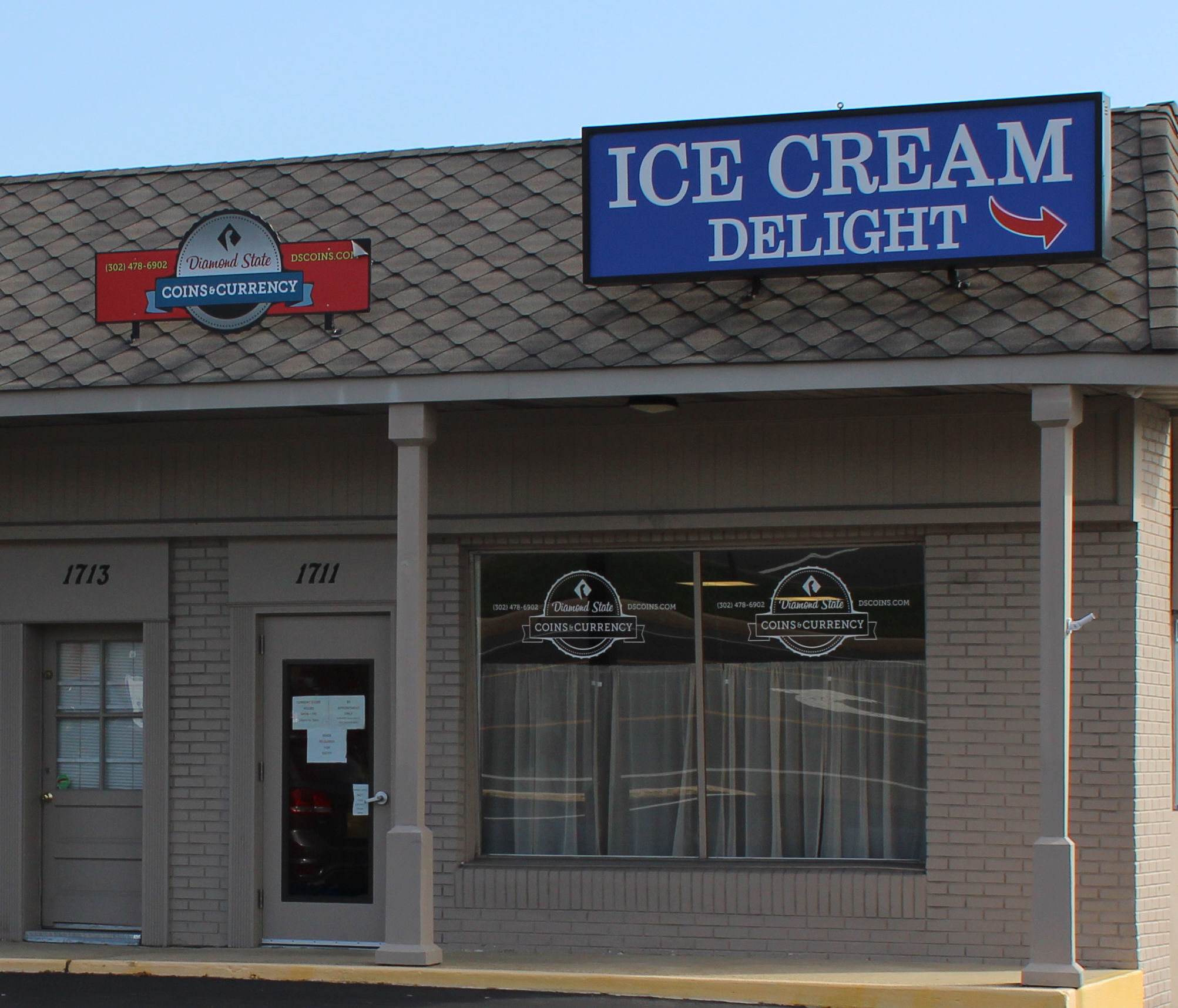 If you are coming to visit, we like to tell people to find us under the "Ice Cream Delight" sign. I hope this helps and we hope to see you soon.
"Both my experiences with Diamond State have been exceptional. The people who work there are very professional and I got a wonderful price for the items I brought in

Lois H.."

Lois H.
"Anytime, Kevin it's hard to find a place to do business that's as awesome as yours. I'm sure I will be seeing you guys soon!

Mike"

Mike B.
"I appreciate the extra time Kevin took to evaluate my coins and the fair price I got. Looking forward to doing more business with DS!"

Paul B.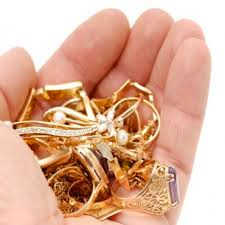 Any unwanted jewelry collecting dust in your jewelry box? DSC pays more, and we'll prove it. Bring your scrap, broken, and unwanted gold, silver, and platinum jewelry to DSC and we'll take good care of you.
"They gave me a great price for my coins. Much more then I thought i would get.I highly recommend them above all others."

Kathleen Y.
"We're still smiling from that experience. Thanks!"

Joyce K.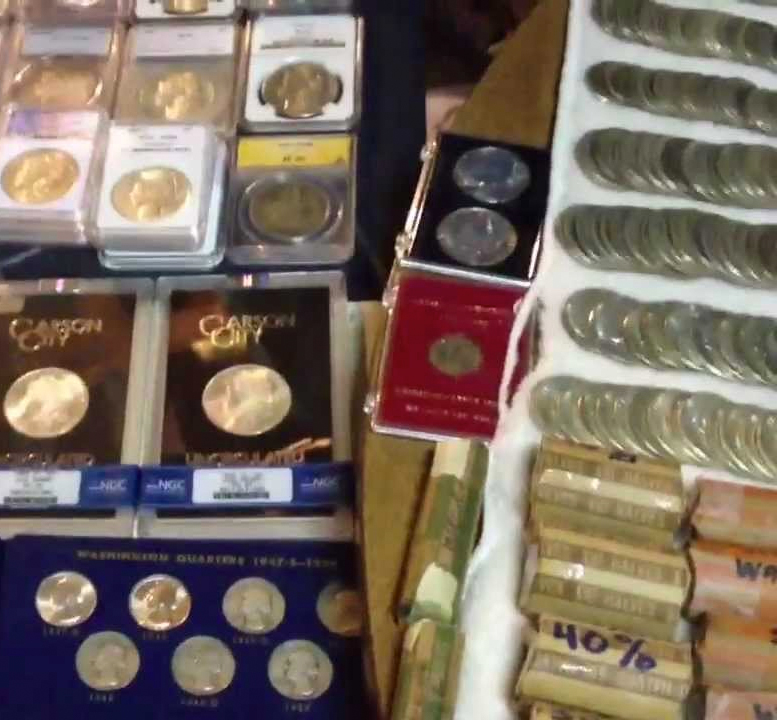 Do you have a collection that you're interested in selling all at once? We're buyers! Feel free to call us to discuss first. In some cases, we'd be happy to come to you or meet you at a bank for your protection and convenience.
"Great Experience! Went back a second time and they remembered my name!!! I'm going back soon!! You'll get the most out of going to DS coins the friendly guys are just an awesome plus!!"

Heather W.
"They are terrific!! It's like going back in time to find two business men who really care about the customer. Kevin gives the best prices around and you can really put your trust in him."

Kathy G.
"Great people to work with, very knowledgeable, very patient and they give the best deal around."

Susan K.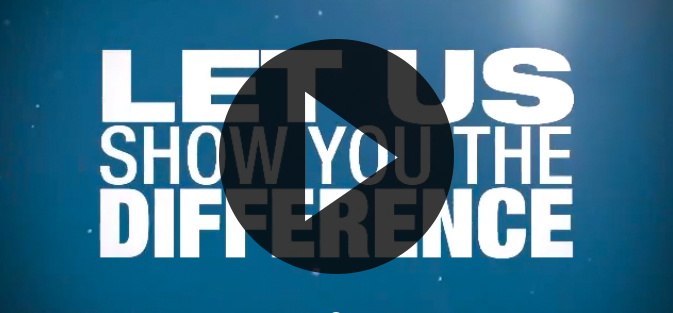 Yeah, we're kinda famous. Check out our YouTube channel to see our latest commercial.
"Great people, friendly environment, and you don't feel like your getting taken advantage of!"

Diane V.
"Great people, friendly environment, and you don't feel like your getting taken advantage of!"

Zachary K.
"I have had dealers tell me that there is no way DSC paid me so much next to their offers. After that I realized they(DSC) are the only real game in town to sell to, and buy from as well. Straight up and honest people."

Stan R.
"I have dealt with Diamond State Coins & Currency several times. Recently, I got a quote from a reputable gold buyer which I thought was pretty good, but I decided to return to Kevin. Without knowing my other offer, Kevin beat it by over $200.00. Don't know how they do it, but they are the best."

Linda G.
"I had 2 estimates from longtime jewelers in the NCC area. Diamond ST Coins was well over & above what I would have gotten!"

Ted
"These guys can be trusted. I am a silver bullion investor so I know the game. They offered me a price higher than I could believe and stuck with it even as spot dropped. Far superior to all other dealers! Much more convenient than eBay or craigslist."

Phillips B.
"I buy/trade gold/silver coins and have called around and checked out every jeweler/coin shop and no one can match Diamond State. I have even called places to see if they would match Diamond States prices and they laughed at me offering me HALF of what Diamond State was paying. Great staff who are very helpful."

Jason A.
"Best of the best."

Howard M.
"I took some things to Diamond State, hoping to get $300 for the lot. I received $1800! One of the most Honest places I had the pleasure of doing business with."

Joe P.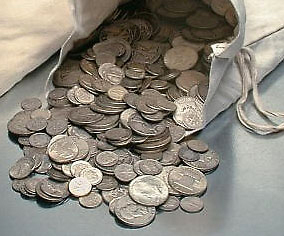 Did you know that US Coins minted before 1964 are likely made from silver? It's true, and we want to buy them from you at many times face value!
"These guys were great to deal with! Took their time with everything and were very honest!"

Chris K.
"Make Diamond State your first stop, and you won't be disappointed. There's absolutely no need to go anywhere else, as their careful, friendly service assures a gratifying and satisfactory experience."

Maryanne A.
"The last time I was in at Diamond State coins a mistake was made during my transactions. I got a call several weeks ago that an error was made and they would be sending me another check. I am very happy with the honesty and integrity of Diamond State Coins. I would recommend your business to anyone."

Joanne M.
"Solid people to do business with... I have used several other firms in the past. However, Kevin has taken care of finding me the pieces I want for the best prices of the day."

Joe K.
"Visited Diamond State Coin the other day; did some comparison pricing; they were the best. Very professional, knowledgeable, and honest . . . I will be dealing with them only!"

Virginia C.
"When it came time to liquidate my father's coin collection, our family inquired among a group of friends in various levels of the legal profession for recommendations. One name came up again and again: Diamond State Coins & Currency. When it came to customer care and service, Kevin went above and beyond."

Amy F.
"I came in with an idea of what everything was worth and I definitely was happy with the return. I will definitely recommend them to anyone I meet and I will definitely do business with them again!"

Donald S.
"Diamond State is highly recommended by me for anybody looking for a integrity based merchant not full of trickery."

George J.
"Best prices around and decent folks. I have my favorite hometown coin shop now. Highly recommended!"

William B.
"Diamond state paid me 40% more for my silver bowls than a family friend! Also, he found coins that I thought were just "junk" silver that were actually worth hundreds of dollars."

Mike W.
"I love this place! They are completely honest and such a pleasure to work with. Don't be fooled and don't get ripped off! Go to Diamond State Coins and Currency! I wouldn't go anywhere else again and I've recommended them over and over!"

Cindy S.
"Was shocked that Diamond State's prices were so much higher than our jeweler. Great people to deal with, no pressure and they actually encourage you to shop around."

Kathleen D.
"We just left Diamond State with a check in hand and great experience."

Alan K.
"I now have a beautiful type book with every slot filled that I am very proud of! You'll find Kevin is very generous with his time whether your making a large or small purchase. You won't go wrong here."

R. Scott M.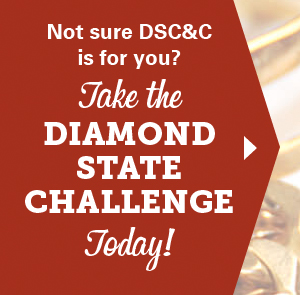 Is anyone else crazy enough to send you somewhere else first? Take the Diamond State Coins Challenge and you find out for yourself why we're that confident! Visit our About Page for details.
"Every time I came in, no matter how much work they may have had, I was always given their full attention."

Jamie C.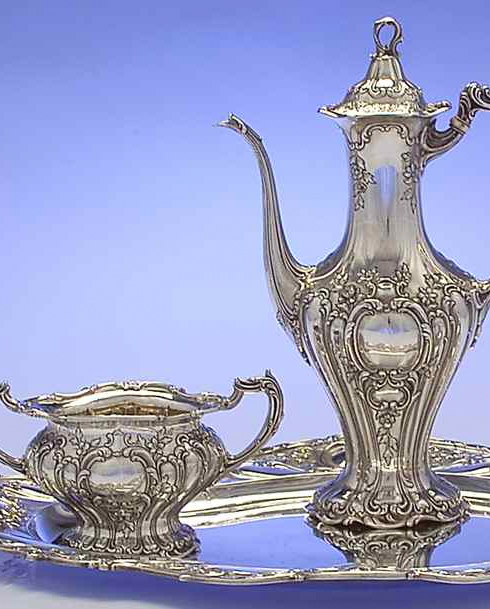 We'll make even the finest tea drinker want to give it up for good. Diamond State Coins and Currency is paying top dollar for your sterling silver. That tea set? We'll buy it!
"Very efficient and knowledgeable! I will definitely be dealing with this business again."

Nick W.

We're excited to announce the launch of our new website! Thank you 2 Fish for doing such an incredible job!
"WOW! Extremely fair in offers, more than you would get almost anywhere else without the hassle of looking or having to sell on Ebay and having to deal with all the fees."

Ed C.
"From the moment my son and I arrived we were made to feel comfortable and safe. The staff were friendly, the store was clean, most important though was that these guys were honest!"

Jack H.
"After visiting three different jewelry stores in the Bear-Newark/Wilmington area advertising best prices for gold/silver I found myself at Diamond State Coin and Currency. They have the best Prices. The items I took were priced at 100% more then any other jewelry stores offered."

Georganne B.
"Very professional! Had a large estate of coins and they guided me through the differences in value. Always took the time to explain and gave top dollar for all. Highly recommended!"

Andrew S.
"I went to Diamond State coin first and got a nice offer but I wanted to compare with Stuart Kingston. So, I took the silver there and the offer was so low that I just walked out. YOU ASK HOW LOW? TRY OVER 3 TIMES LESS THEN DIAMOND STATE!!!! Thanks, Diamond State Coins for making a difficult separation worth something."

Melissa G.
"It was a pleasure to finally deal with honest people like Kevin. I did what his newspaper add suggested and got other quotes on some gold only to receive 48% more from Kevin."

Dave D.
"Finally a company today that still feels that people come first. Kevin makes his clients feel that they are working with people who care and are willing to pay what their item is worth, unlike some of the jewelry stores I visited prior to going to Diamond State. The Price is Right with Mike & Kevin. Thank you for your honesty."

Linda F.
"Kevin was the most knowledgeable and patient of anyone I spoke with at any of the other places. He answered my endless questions with a smile."

Judith P.
"Kevin and staff are Friendly, Fair, Dependable, Honest, Professional and the environment is clean and safe. They have integrity, they are knowledgeable, and they have nice personalities. I have been a faithful customer of theirs for many years - as far back to when they dealt mostly in coins next door."

Joyce A.
"The staff at Diamond State Coins are great! I can count on them to give me the best prices for my silver or gold."

Patricia L.